When it comes to redesigning a bathroom, what you choose for your shower enclosure can go a long way towards making—or breaking—your overall design. It may not be the first part of a remodel project that anyone thinks of, but it is, without a doubt, one of the most important parts of any bathroom remodeling project.
A fresh approach in bathroom designs is the frameless glass shower enclosure. Here's why it works, how it can work for you, and some of the styles you can expect to choose from when picking out your own shower design.
1) Why it works: It adds a simple, clean look to the bathroom.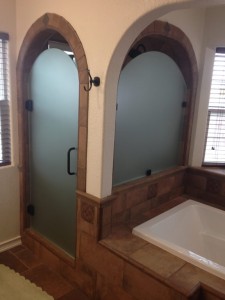 Without the bulkier look of traditional shower models, it creates the appearance of more space. Instead of competing with the sink and bathtub design, it effortlessly complements rooms of any style. It gives a luxurious feel—spas typically use this design, because it's clean and classic and encourages clarity of mind.
2) Why it can work for you: It is easy-to-clean and easy-to-maintain.
Instead of having to continuously replace shower curtains, install and re-install curtain rods, and clean away rust from the metal, you can enjoy the benefit of being able to quickly and easily clean the shower's glass. Use a squeegee on doors after a shower, or just occasional glass cleaner, and it will look perfectly fresh.
3) What to expect: More options.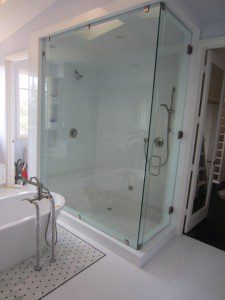 Frameless enclosures can be custom-made to fit most showers, of varying shapes and sizes. Whether you need two, three, four or more sides to your enclosure, the frameless choice offers more possibilities. There are options for sliding doors, swinging doors, or bypass doors. Glass can even be etched with a design of your choosing.
Frameless shower enclosures are a perfect addition for almost every bathroom. The convenience of custom, one-time installation matches the convenience of easy maintenance. If you want convenience with clean and classic design, go frameless. It is a simple change to make, but your shower enclosure makes a world of difference in the appearance of your inner sanctum.