A frameless shower enclosure can lend instant style and upscale class to any bathroom, whether it's large or small. Frameless shower enclosures can make any bathroom look bigger, as well as give cleaner lines to the design of the entire room.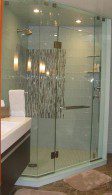 As well as being beautiful, a frameless enclosure can keep the bathroom dry, as there is no more space between your shower enclosure and your shower or bathtub. Frameless shower enclosures are a classic look and can instantly increase the appeal of any bathroom. They are easy to clean and can make any area look more spacious. Imagine: no more choosing the perfect shower curtain, only to have to replace it a few months down the line!
A frameless glass enclosure provides a modern and clean look to any bathroom and can make even a tiny room look infinitely larger by letting reach corners that would otherwise be dark. An elegant, minimalistic choice, frameless shower doors are an excellent option for a home that needs a pick-me-up.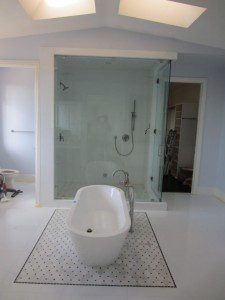 This is an option many upscale hotels have chosen, because of the ease of cleaning and the sanitary value of a frameless shower enclosure. We are able to install them quickly and easily at a price that fits your wallet, and our ability to customize any frameless shower enclosure to your exact specifications makes Patriot Glass and Mirror a perfect choice for your budget and your needs.
Choose from 3/8 or 1/2-inch glass, installed with clips or a U channel. In addition to the frameless enclosure, itself, being customizable, we also offer many types of different hardware and finish options, so exactly what you want is exactly what you'll get. Whether you are re-designing, re-building, or building for the first time, we can help you get the high end bathroom that you've always wanted in practically no time at all.
Get An Estimate