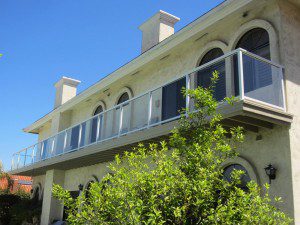 If your home or business is in a particularly beautiful location, the last thing you want to do is obstruct a gorgeous view. Installing a glass railing is the perfect way to protect against the wind, without putting up a heavy or unattractive wall between you and your scenery.
We offer ¼ to ½-inch glass for railings, which can be installed with or without hand rails. We also offer endless customization options for size and space, as well as several different bases, such as an aluminum shoe base or one of our many framed systems with posts. Your glass railing can be installed between existing wooden posts or walls you may already have, making the installation easier on both your clock and your wallet.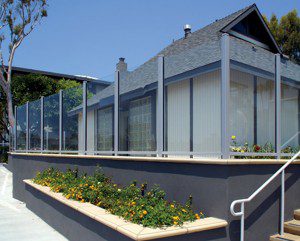 We here at Patriot Glass and Mirror offer several types of glass for a windscreen. If privacy is what you are aiming for, we have many types of privacy glass that still allow light to any area and give any place a more spacious feel, but still help to maintain your privacy. If you prefer to see a view unobstructed, we offer high-quality, clear glass that is easy to clean and looks stunning. A glass windscreen can make any area look high end and upscale, offering security, privacy, and protection from the wind.
Our glass railings are ideal for security in a higher area, without the heaviness and potentially view-obstructing factor of an ordinary railing. They offer a wonderful alternative to the usual type of railing, giving your home or office a unique and classic look.
Whether you are looking for glass railings or glass windscreens, Patriot Glass and Mirror will complete the job with the utmost style, quality, and professionalism.

Get An Estimate