Expert glass service, Patriot Glass & Mirror provides a full range of residential, and commercial, glass products.
Repairs, new installation and unique or custom projects.
Glass Products and Service
Mirrored walls
Vanity mirrors
Mirrored wardrobe doors
Dual pane glass
Heavy glass shower enclosures
Glass shelves
Tempered Safety glass
Beveled glass and mirrors
Laminated safety glass
Glass partitions
Retro fit windows
Specialty pattern glass
Count on us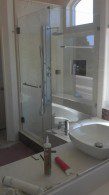 For service that is dependable, efficient, and skilled technicians that pay close attention to detail.
We want every customer to be 100 percent satisfied with our work. It does'nt matter if it's fixing a broken window, installing a new shower enclosure or building a whole new storefront. The most important thing is that when we walk away from a job we know it was done right and that we have exceeded all of you're expectations.
Get An Estimate